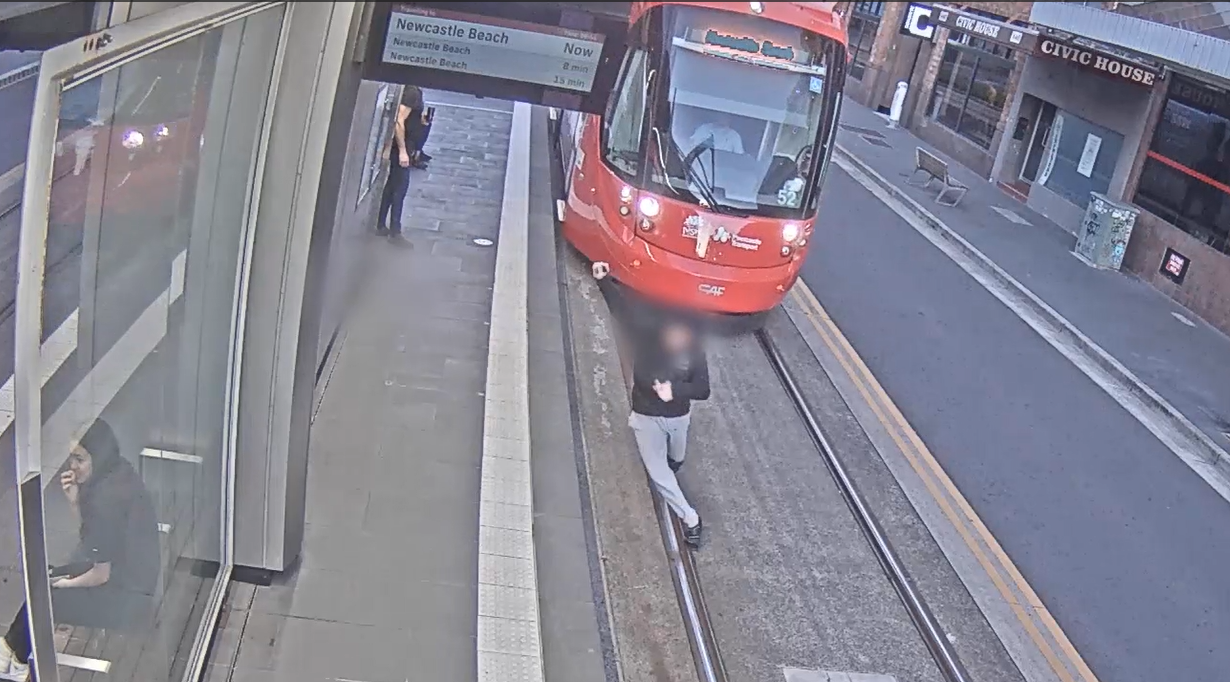 7.08.23
Stand back, look up, stay safe this Rail Safety Week
Today marks the start of Rail Safety Week, with Newcastle Transport reminding Novocastrians to stand back, look up and stay safe around the Newcastle light rail.
To highlight the need for pedestrians and drivers to take care around the light rail network, Newcastle Transport has released CCTV footage showing several close calls over the last six months.
Keolis Downer Hunter General Manager, Emmanuel Genlot says he hopes the vision will encourage the community to be more alert around the light rail, and think about the long-lasting impact that a near-miss can have on passengers, tram drivers and other observers.  
"It's scary to watch the CCTV footage and see the dangerous and unpredictable behaviour of some Newcastle road users and pedestrians," said Mr Genlot.
"We are seeing increased instances of intoxicated customers stepping out in front of light rail vehicles after a night out,
"We also continue to see pedestrians ignoring pedestrian crossings and running across the tracks to try to catch the light rail before it departs.
"A risky decision can change someone's life forever – this week is about taking light rail safety seriously and understanding the mental impact a near-miss will have on our passengers, tram drivers and wider community," he said.
Tram driver and trainer, Corey Moore has seen his fair share of near misses around the Newcastle light rail.
"We see seeing about one near-miss incident per week, which is one too many.
"While our tram drivers use every possible safety measure to avoid a collision, at the end of the day, we need the community to play its part," he said.
Corey says he hopes Rail Safety Week prompts everyone to think about their own safety, and also that of tram drivers.
"Every near miss leaves an impact on your mental health," he said.  
Corey says that pedestrians also need to look up.
"We often see pedestrians looking at their phones and not paying attention," he said.
The familiar 'Be aware the rhino' campaign will run throughout Rail Safety Week to remind motorists, pedestrians and customers to stay alert around Newcastle's light rail.