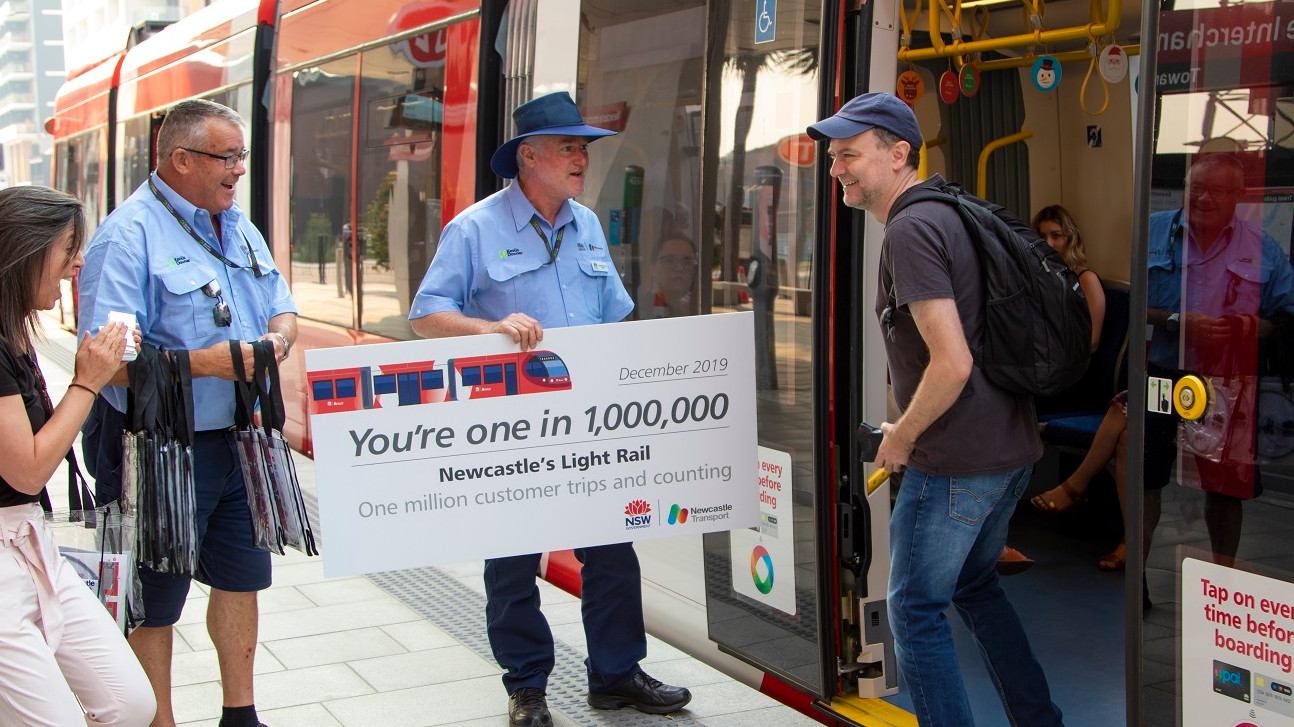 23.12.19
One million customers on Newcastle light rail
**This article is from 2019. Please check newcastletransport.info or contact us for the latest information**
Today Newcastle light rail carried its one millionth customer, since launching in February this year.
Customer, Rohan Cattell, a regular light rail commuter travelling to work in Newcastle CBD was amazed by the attention after tapping on at the Newcastle Interchange on his way to the Queens Wharf stop.
To celebrate the milestone, Rohan and Newcastle Transport customers on board the next departing tram were presented with a gift bag and coffee voucher to mark the milestone.
Liberal Member of the NSW Upper House for the Hunter, Taylor Martin, said this is a significant milestone for Newcastle light rail and it's clear light rail has changed how people moved around the city.
"Novocastrians are making light rail part of their daily lives and are using it to get around the city whether for business or leisure.
"The light rail allows office workers to travel to nearby precincts quicker and easier to get to meetings or on their lunch breaks.
"Patronage has been steadily increasing on weekends and families are definitely taking advantage of light rail to get out and about to explore the Newcastle CBD during school holidays."
Keolis Downer Hunter General Manager, Mark Dunlop said on average the light rail provides services for over 3620 customers a day and over 46 per cent of these customers are connecting with bus, ferry and train, as part of an integrated journey.
"We now have a truly integrated network for Newcastle with light rail, bus and ferry services in the city and it is encouraging more people to get on board public transport.
"The light rail makes it easy to connect with other modes of transport whether the ferry at Queens Wharf, buses adjacent to the Honeysuckle and Newcastle Interchange stops and trains to the Hunter and Central Coast from the Interchange."