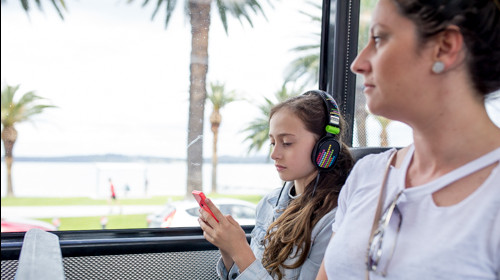 3.06.19
Newcastle Transport service improvements
**This article is from 2019. Please check newcastletransport.info or contact us for the latest information**
Newcastle Transport's On-Demand service area will double in size from 30 June this year, to extend to 27,000 residents in Redhead, Jewells, Floraville, Croudace Bay, Valentine, Belmont North and Belmont.
Andrew Fletcher, Keolis Downer Hunter Director of Corporate Affairs, said they have listened to customers, spoken to their drivers and analysed their data in making the decision to double the On-Demand area.
"The On-Demand trial in parts of Lake Macquarie has enjoyed consistent month-on-month growth in customer numbers," Mr Fletcher said.
"Our customers love the service and positive word-of-mouth is attracting more people to public transport in the area generally.
On-Demand services represent an innovative way to travel using the Newcastle Transport network.
Mr Fletcher said data from the Lake Macquarie trial proves that locals are ready to embrace new mobility solutions.
"Whether it's getting to an appointment at Belmont, meeting a friend for coffee at Warners Bay, or a lift home from Charlestown Square, Newcastle Transport On-Demand vehicles can pick you up and drop you off anywhere within the service area," Mr Fletcher said.
Regular routes will continue to operate in the area with a reduced frequency during off peak times when On-Demand is in service.
Along with the expansion of On-Demand services, there will also be timetable improvements across the Newcastle Transport network to improve reliability.
"There will be no changes to routes or operating hours, but the timing of services will change," Mr Fletcher said.
New timetables and an information campaign will launch on 16 June to make sure customers are well aware of changes to regular services, which will come into effect on 30 June.
"Customers will have plenty of time to check their trips, and our Customer Service Officers will be out on the network, in major shopping centres and at our Hub at the Newcastle Interchange to provide personalised assistance to our customers," Mr Fletcher said.
"We will be reviewing services and timetables annually to make sure we are providing the best possible transport services for our customers.