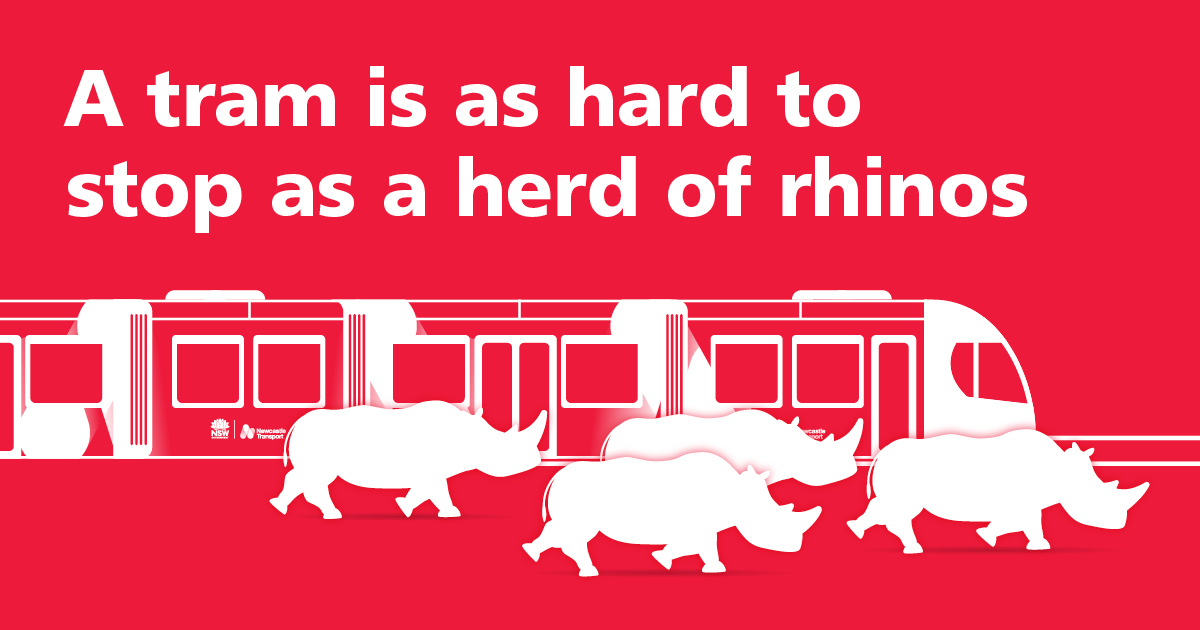 18.01.21
Newcastle: Be aware of the Rhino
Did you know a Newcastle tram is as hard to stop as a herd of thirty rhinos?
This is the message Newcastle Transport operator Keolis Downer Hunter want to get across to the community with the launch of a new campaign this week.
General Manager, Mark Dunlop said there continued to be a lack of awareness around the light rail network by both road users and pedestrians as Newcastle light rail approaches its second anniversary.
"Every day there are close calls on the network with motorists running red lights and pedestrians stepping out in front of trams.
"The rhino is a unique way to create a clear image in people's minds of the size and danger posed by a tram.
"Similar to a herd of charging rhinos, trams can't divert from the tracks to avoid an obstacle and it takes time to stop because of the weight."
Over the last two years, the emergency brake has had to be used at least once every week to avoid a collision.
"We are wanting to get across to the community that forcing a tram to stop doesn't just affect the motorist or pedestrian but also the tram driver and all the customers on board.
"While our tram drivers do a great job in anticipating dangers, there are still instances when the emergency brake needs to be applied, affecting everyone on board.
"Simply, one moment or mistake could be a life changing event for everyone involved.
"This campaign reminds road users to follow the road rules and be alert and aware around Newcastle light rail.
"For pedestrians, cross at the designated pedestrian crossings and only cross when the light is green and be alert to your surroundings by putting your phone in your pocket and taking your headphones off.
"Cyclists should also keep a safe distance from trams and not ride along the tram tracks."
Similar campaigns featuring Spike the Rhino have been rolled out across other Keolis Downer operations including Melbourne and Gold Coast.