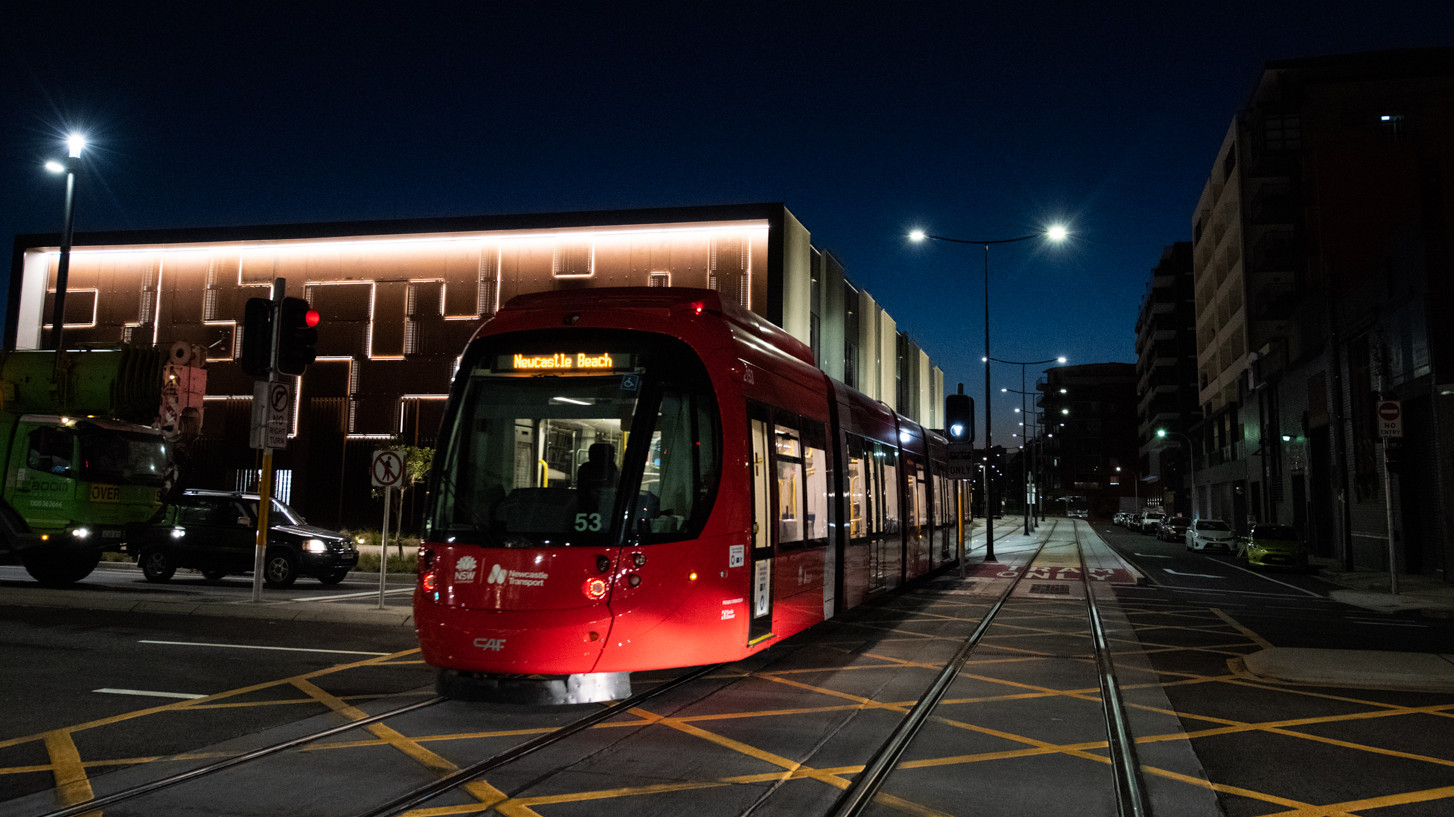 18.02.19
Light rail is here
**This article is from 2019. Please check newcastletransport.info or contact us for the latest information**
History was made today with the start of light rail passenger services and the first tram departing Newcastle Interchange at 5:05am.
Newcastle's sleek red light rail vehicles have become a regular feature of the city's streetscape, having travelled the equivalent of Newcastle to Perth and back again during extensive testing, commissioning and driver training.
General Manager of Keolis Downer Hunter, Mark Dunlop, said today marked a significant milestone.
"Today we deliver a new way to move around the city centre."
He said around the world people embrace this modern mode of transport with great enthusiasm.
"We're sure locals and visitors alike will fall in love with light rail – it's such an easy way to get around the city centre."
"Whether you are heading to Honeysuckle for work, to Civic for learning, or Newcastle Beach for a surf, light rail is now the best way to reach your destination."
"Yesterday's community open day was a huge success and the thousands of smiling faces on light rail points to a great future for the service."
Combined with new public spaces and easy access to the waterfront, light rail is making Newcastle a more connected, attractive and liveable city.
"No matter where people might live in the Hunter, or beyond, I encourage everyone to try Newcastle Light Rail and see the city's transformation for themselves."
"We are starting ahead of schedule with a more frequent service than the city has ever had, and over the coming weeks our optimum frequency of a tram every 7.5 minutes will be achieved."
"The addition of light rail to our bus, ferry and on demand services makes Newcastle Transport a truly integrated and multimodal network," Mr Dunlop said.
Plan your light rail trip now at http://newcastletransport.info