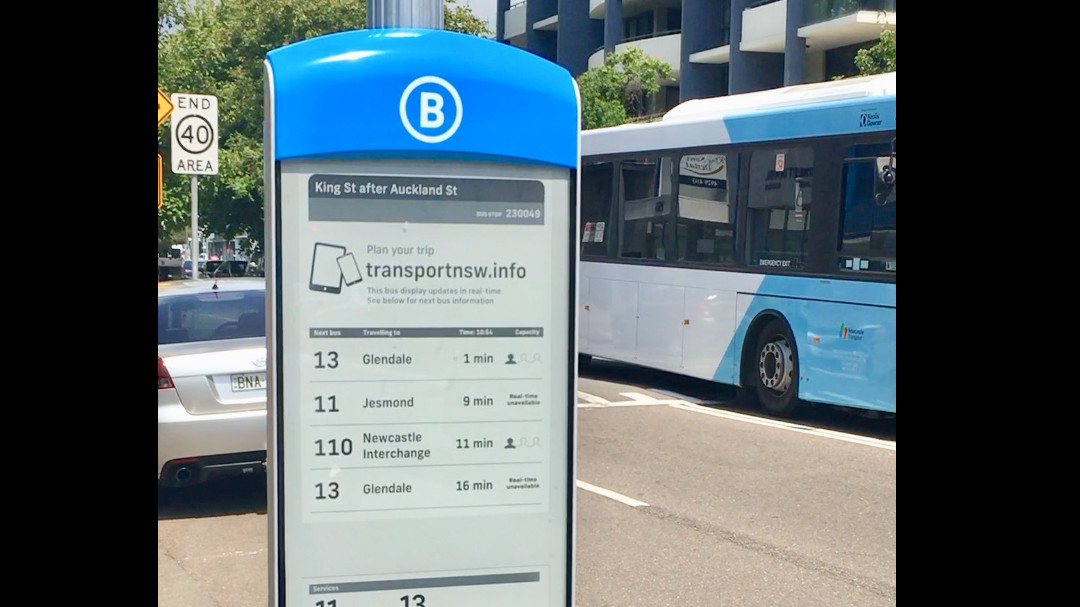 19.12.18
E-paper technology brings real time updates to Newcastle bus stops
**This article is from 2018. Please check newcastletransport.info or contact us for the latest information**
New digital installations at bus stops in the Newcastle CBD now offer real-time information for customers, making it easier to get around the city.
The five digital signs are part of the 'Smart Move Newcastle' project and present real-time updates on the location of buses and their arrival times, plus other useful information for commuters and visitors.
Keolis Downer CEO David Franks said he was proud to work in partnership with the City of Newcastle and Transport for NSW to make Newcastle a more innovative and liveable city.
"Keolis Downer is committed to improve the experience of its customers, which is why we're working with the City of Newcastle and Transport for NSW on Smart Move Newcastle.
"E-paper technology will enable us to provide information in real time about bus routes, arrival times, service changes and disruptions, plus other travel advice at key bus stops in the CBD," he said.
City of Newcastle Lord Mayor Nuatali Nelmes said the high-tech bus stops were among a number of innovations being rolled out as part of the Smart City Strategy.
"Digital bus timetables are one way of making life easier for public transport users in the Newcastle CBD," the Lord Mayor said.
"They're another example of how we're improving the city through technology for everyone, as outlined in our award-winning Smart City Strategy. With integrated smart poles set to offer free public WiFi, an autonomous vehicle trial and smart screens coming soon, we are creating an innovative environment for residents and visitors alike to experience our amazing city," she said.
Part of the Smart Move Newcastle project, in a collaboration between Keolis Downer, the City of Newcastle and Transport for NSW, the initiative aims to integrate digital technology in vehicles and infrastructure to enhance the passenger experience.
The $13m Smart Moves Newcastle project received $5m through the Australian Government's Smart Cities and Suburbs program last year.
Bus stops to receive the new technology include:
Hunter Street opposite Cooper Street
Hunter Street at Florence Street
Hunter Street after National Park Street
King Street after Auckland Street
King Street at Perkins Street.