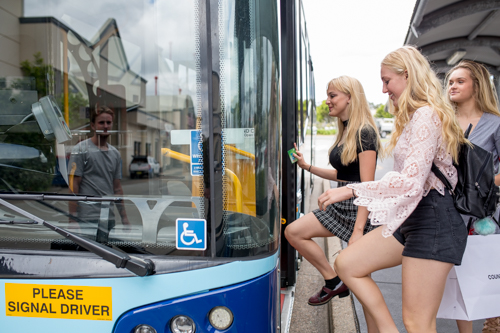 25.02.20
Bus Safety Week 2020
Newcastle Transport is taking part in Bus Safety Week for another year, helping customers and the community stay safe on and around buses.
We believe everyone has a part to play in keeping safe around buses, whether you are a pedestrian, driver, cyclist or customer. Most of the time it is as simple as being respectful and following the road rules.
When you are next travelling on a bus, or sharing the road with our services, keep our safety tips in mind.
For customers:
Get on board safely by using the handrails when getting on and off the bus
Once you're on board, find a seat or hold onto the handrails to maintain your balance
When nearing your stop, give your driver plenty of warning by pressing the stop button well before you want to alight. This helps the driver pull in safely to your stop.
Watch your step and be mindful of the gutter when getting off the bus
Your driver is here to help. If you have a question, ask your driver when you board or when the bus is at a bus stop.
For other drivers:
Give way to buses when they are pulling out from a stop
Allow plenty of space for buses when they are merging
Keep a safe distance from buses in front of you
Slow down to 40km/hour when bus lights flash.
For cyclists:
If you are overtaking a bus, avoid passing when it is turning – buses can take up more than one lane when they turn
Buses have blind spots and may not see you – take extra care
You may travel in a Bus Lane, Tram Lane, Transit Lane or Truck Lane but not in a Bus Only Lane
Follow the rules and ride with care.
For pedestrians:
Don't rush for the bus; plan ahead and arrive five minutes before your scheduled departure time
Obey traffic signals and cross the road with care
Don't be distracted by mobile phones or headphones
Stand back from the kerb when waiting for the bus.
More travel tips can be found here.